Frankfurt a.M., Octobre 9 2021. Electrical Oil Services (EOS), une marque du groupe HCS et l'un des principaux fournisseurs d'huiles isolantes inutilisées et recyclées et de services associés, a mené à bien l'assemblage prêt à l'emploi des transformateurs sur le site de l'installation de recherche sur les antiprotons et les ions (FAIR) à Darmstadt, en Allemagne.
Les quatre transformateurs de 80 MVA ont été livrés par BEST Transformer, le principal fabricant turc de transformateurs, au site de l'accélérateur de particules FAIR, qui est l'un des plus grands projets de construction au monde pour la recherche internationale de pointe.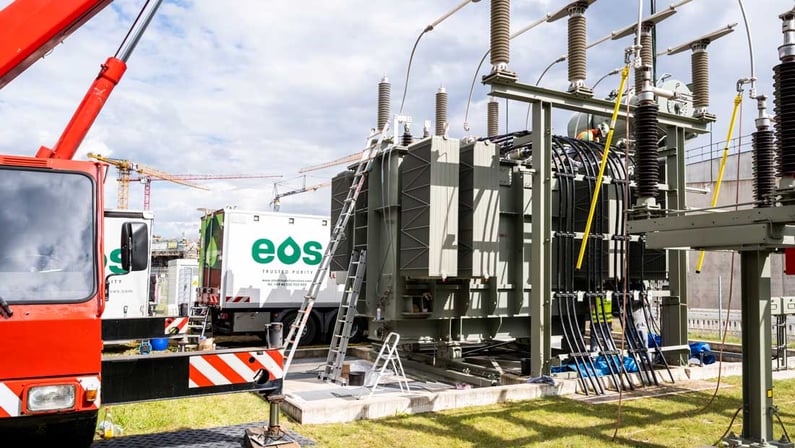 Electrical Oil Services (EOS) a été chargé par BEST Transformer de l'assemblage prêt à l'emploi de ses transformateurs sur le site de l'accélérateur de particules FAIR en Allemagne, actuellement le plus grand projet de construction international au monde.
« Nous sommes ravis de cette excellente coopération avec Electrical Oil Services », déclare Tunc Tezel, PDG de BEST Transformer, et ajoute : « L'équipe d'EOS a fait preuve d'une compréhension et d'une expertise techniques approfondies. Après les succès remportés dans le cadre d'autres projets communs, celui-ci a été le plus important pour nous, et nous aspirons à étendre notre coopération à d'autres projets en Europe. »
» Nous sommes fiers de faire partie de ce projet FAIR très passionnant « , déclare Martin Seipel, directeur général d'Electrical Oil Services GmbH, et ajoute : » Ce projet a été l'un de nos plus grands projets d'installation depuis la fondation d'EOS GmbH en Allemagne en 2018. L'achèvement réussi et la confiance de notre partenaire prouvent que nous sommes idéalement positionnés pour fournir des services de transformation à un large éventail d'entrepreneurs électriques spécialisés, d'équipementiers, de grandes et de petites entreprises industrielles ainsi que de centrales électriques en Europe. »
EOS est un contributeur clé de l'économie circulaire
Fondée à l'origine au Royaume-Uni, EOS propose aujourd'hui des services complets de transformation sur le marché européen. Les services comprennent tous les besoins en huile isolante – du traitement et de la régénération mobiles à la collecte d'huile de transformateur, aux tests d'échantillons, au remplissage d'huile sous vide et aux travaux de maintenance. En proposant un modèle en « boucle fermée », qui permet de régénérer les huiles de transformateur pour qu'elles retrouvent une qualité neuve et soient réutilisées de manière durable, conformément à la nouvelle spécification CEI 60296 : 2020, EOS apporte une contribution essentielle à l'économie circulaire.
Technical infos on EOS® Premium
Click to get more technical details on our EOS® Premium grades.
Download:
Click on the picture to download a high-resolution file.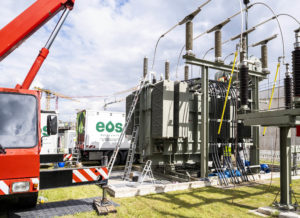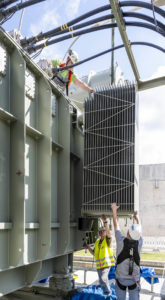 Electrical Oil Services (EOS) has been contracted by BEST Transformer for the ready-to-operate assembly of their transformers at the FAIR particle accelerator site in Germany, currently the world's largest international construction project.
© HCS Group GmbH, Klaus Venus
XXX
About Electrical Oil Services (EOS)
Electrical Oil Services (EOS) is a key brand of HCS Group GmbH and a leading supplier of unused and reclaimed insulating oils and associated services in Europe. EOS specialists have more than 60 years' experience in the production and marketing of insulating oils and supply both large and small customers in the electricity distribution industry with tailor-made solutions. For further details please visit www.electricaloilservices.com
About BEST Transformer
Balıkesir Elektromekanik Sanayi Tesisleri (BEST) was founded in 1966 and was the first high-voltage transformer manufacturer in Turkey. Today the company is one of Turkey's leading transformer manufacturer with 170.000 m2 of production space and 50,000 MVA. More than 50 percent of its production today has become a global company by exporting to over 85 countries. The company serves many areas such as the world's leading electricity companies, iron and steel producers, oil and gas companies, solar and wind energy projects. For more information please visit: www.besttransformers.com
GSI and the FAIR mega-construction project
The FAIR particle accelerator facility in Darmstadt is one of the world's biggest construction projects for international cutting-edge research. On a site of approximately 150,000 m2, 25 buildings are being constructed. Amongst them are an underground accelerator tunnel with 1100 meters circumference and other unique buildings. They are designed in order to house and operate the newly developed high-tech research facilities.
This multinational and highly complex mega-construction project has entailed the development of integrated construction workflow planning that closely coordinates building, civil and construction engineering, accelerator development and construction, and scientific experiments. The construction work began in the summer of 2017. For more information please visit: www.gsi.de
About HCS Group
The HCS Group is a leading international supplier of solutions for high-value hydrocarbon specialties. The Group includes the brands Haltermann Carless, ETS Racing Fuels and EOS. The HCS Group has about 500 employees and is headquartered in Frankfurt am Main, Germany. The company belongs to H.I.G. Europe, a subsidiary of the US private equity company, H.I.G. Capital. For further details please visit www.h-c-s-group.com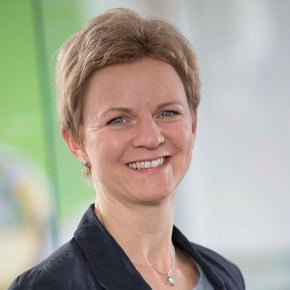 Sandra Zirm
Sandra Zirm, responsable de la communication corporate et marketing du groupe HCS, est chargée de la communication stratégique de l'entreprise, y compris des relations presse et de la communication commerciale des marques Haltermann Carless, ETS Racing Fuels et Electrical Oil Services (EOS). L'un des points forts de son activité est la conception de la communication en ligne et de l'inbound marketing. T +49 69 695 386 117 E-mail szirm@h-c-s-group.com