Operators of offshore wind farms have to ensure the smooth operation of their transformers, because failures or loss of power can be really expensive. In addition to regular maintenance, a flexible and short response time is therefore an important priority in the event of a malfunction. Read in this article which offshore operations Electrical Oil Services (EOS) can perform with regard to transformer oils and how the EOS® experts proceed.
Pioneering work under extreme conditions: This is how EOS® proceeds on an offshore assignment
In offshore operations, many things are extreme: costs, logistics, preparations, sun exposure, weather, wind, certifications. The documentation and administration work from logistics to execution is unique and the complexity of numerous stakeholders is demanding and multi-layered.
Professionalism is in demand. For around 70 years, Electrical Oil Services has specialised in the field of insulating oil treatment and transformer maintenance and offers you comprehensive services both onshore and offshore - flexible and reliable.
EOS® quality services include:
1. Extensive preparation
Whether it's communication and coordination with the operator, transport to and from the site, protective equipment, accommodation and catering or health checks, whether it's safety aspects on site or the confined space on the installation for maintenance work and insulating oil measures - the experts from Electrical Oil Services prepare themselves thoroughly for every assignment.
2. Professional implementation
The EOS® team is equipped with GWO-certified equipment and works in a highly professional manner. The assignments are completed as quickly as possible and the EOS® team stays as long as necessary. Whether for 2 or 20 days - we know how to work flexibly, with foresight and reliably in offshore operations.
3. Pioneer with experience
Offshore wind power plants have not been around for very long, yet EOS® has been involved from the very beginning. The experts at Electrical Oil Services provide practical and independent advice to politicians and industry on design, transformer life extension, maintenance and insulating oil issues in connection with offshore wind turbines.
EOS® is also a pioneer in sustainability and cost efficiency: Electrical Oil Services collects used insulating oil, recycles it and returns it to the customer in as-new condition. We call this reuse on a sustainable basis the EOS® Closed Loop model.


Learn more about the proven circular economy concept in the following blog article:

Did you know that recycled insulating oil can also be used for offshore transformers, promoting both sustainability and cost efficiency? In this way, operators of offshore wind turbines also contribute to environmental protection in this area and at the same time benefit from high-quality, recycled transformer oil.
Automated insulating oil analyses and on-site operations with specially trained personnel
Compared to onshore plants, offshore wind farms face special challenges. Due to their location on the high seas, offshore plants are much more difficult to access than onshore plants. They also offer much less space for additional equipment due to the confined space on the platform. This makes on-site maintenance more difficult.
The weather conditions at sea are extreme, which leads to higher stress on the turbines and their transformers. At the same time, in the event of a transformer malfunction, a quick response is necessary to keep downtime to a minimum.
EOS® meets all these challenges with fully-automated insulating oil analyses and on-site operations with specially trained personnel:

1. Fully automated transformer oil monitoring
A measuring system inside the transformer takes an insulating oil sample at regular intervals and sends the result online to the operator of the offshore wind turbine. The insulating oil analysis data is provided to Electrical Oil Services by the customer. This is followed by the reliable evaluation of the analyses by EOS®. In addition, Electrical Oil Services offers a further service: all collected insulating oil analysis data are managed in the EOS® database.
Learn more:

2. Fast response thanks to well-coordinated teams and state-of-the-art technology
Experienced, specially trained staff use the mobile EOS® service units and ensure the best quality transformer oils on site on the offshore platform. They regenerate or filter, degas and dry insulating oils - depending on which procedure the analysis data recommends.
Learn more:


EOS® offshore services
We offer you as a customer in the offshore sector access to the EOS® database mentioned above. The proven, cloud-based CRM software makes it possible for you to see all your own protected data. It is used to manage insulating oil analysis data, budgets and maintenance schedules, as well as to establish a reliable sequence for your maintenance activities.
Benefit from the following EOS® offshore services:
Consultancy: Sound recommendations regarding new or recycled transformer oils, offshore routine investigations, individual analyses as well as maintenance measures to be carried out.
Training: Instruction of operator personnel in transformer oil expertise, in the EOS® database as well as equipment training for automated sampling.
Oil sampling: Insulating oil samples fully automated or also on site, optionally including well-founded analyses in the EOS® laboratory.
Transformer installation: Detailed, professional support during the commissioning of your offshore transformers as well as oil filling of transformers under vacuum.
Transformer maintenance: Regular on-site condition assessments with subsequent recommendations for action to ensure smooth operation.
Insulating oil processing: Filtering, drying and degassing – oil replenishment to meet the required quality for optimum offshore transformer performance.
Insulating oil regeneration: Removal of all contaminants by means of a sustainable deep cleaning of the entire insulation oil system of your offshore transformers.
Incident: Online analysis and rapid dispatch of a trained crew with profound knowledge and valid health check.
Insulating oil disposal: Professional oil disposal incl. proof of EOS® as a certified specialist disposal company if the used insulating oil cannot be recycled sustainably.
Is the offshore service you require not included? Contact us!
We offer individually tailored, reliable transformer oil services for offshore measures.
On the safe side with certificates:
Mastering the challenges of offshore wind farms
Organisations and technology as well as employees who accompany and carry out offshore operations must be prepared and trained for special challenges.
The following certifications are available:
GWO Offshore Certificate (Global Wind Organisation Offshore Certificate): It ensures the safety and competence of workers involved in the installation and maintenance of wind turbines.
Lollar Certificate: It is a certification for companies that have successfully demonstrated their ability to maintain a high level of operational safety and reliability. The criteria are particularly important in industries involving potentially hazardous work, such as offshore oil and gas production.
TÜV (Technical Inspection Association): Onshore and offshore - this internationally renowned certification guarantees the safety, quality and reliability of products, processes and services. TÜV certification serves as a seal of approval for organisations that have undergone rigorous testing and inspection procedures to ensure compliance with industry standards.
Electrical Oil Services is TÜV-certified and holds current Lollar and GWO offshore certificates.

Stay informed with our EOS Trusted Purity Blog!

Conclusion
With years of experience as a pioneer in transformer maintenance and a comprehensive range of services, including the recycling of insulating oil, Electrical Oil Services is your partner for flexible, forward-looking and reliable operations - also in the fast-growing offshore wind farm market. EOS® contributes to sustainability and enables cost-effective and reliable servicing of transformer oils in offshore wind farms.
As an operator of transformers in offshore wind farms you can do a lot to extend the service life of your transformers, reduce maintenance costs and at the same time make an increased contribution to protecting the environment. Our broad EOS® customer base and track record speaks for itself.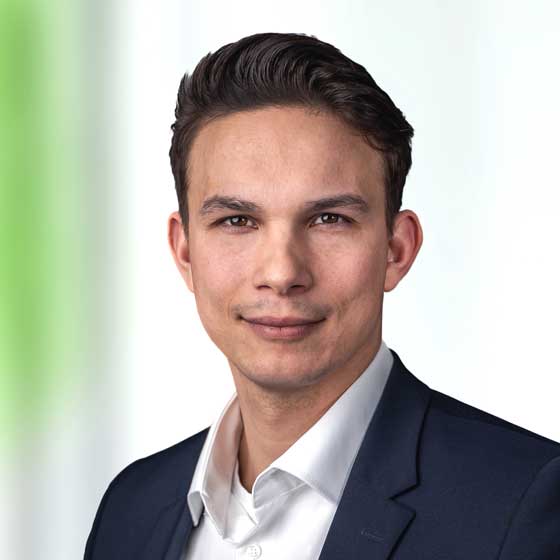 Kilian Gerbl
Kilian Gerbl is Head of Sales for Electrical Oil Services GmbH. He is responsible for all commercial-related topics in Europe – this includes customer relationship management as well as new project and business development. His key focus is to expand the EOS activities across Europe and further implement the sustainable EOS Closed-Loop model.
Tel: +49 151 5351 5373