Electrical Oil Services is part of the HCS Group and specialises in insulating oils and accompanying services for transformers and switchgear. Large and small industrial customers, transformer manufacturers as well as transmission and distribution network operators appreciate the sustainable and professional all-round service from a single source - including individual consulting services. Read in this article which Electrical Oil Services products and services companies benefit from.
Focus on sustainability: Electrical Oil Services is expert in insulating oils and transformer services
The quality of insulating oils is responsible for the service life as well as the performance of transformers and should - be checked regularly to monitor possible deterioration.
In order to maintain the quality of insulating oils at a constant level and to detect changes at an early stage, manufacturers (OEM) of transformers, transmission and distribution network operators as well as public utilities and industrial companies from various sectors rely on the products and services of Electrical Oil Services (EOS®). Deviations from applicable standards must be remedied with appropriate measures in order to ensure the safe operation of the power supply networks.
For more than 60 years, Electrical Oil Services has not only offered new and recycled transformer oils for this purpose, but has also supported energy supply companies and industrial customers with comprehensive oil-processing, maintenance and repair services. In the process, sustainable and partnership-based solutions are always realised.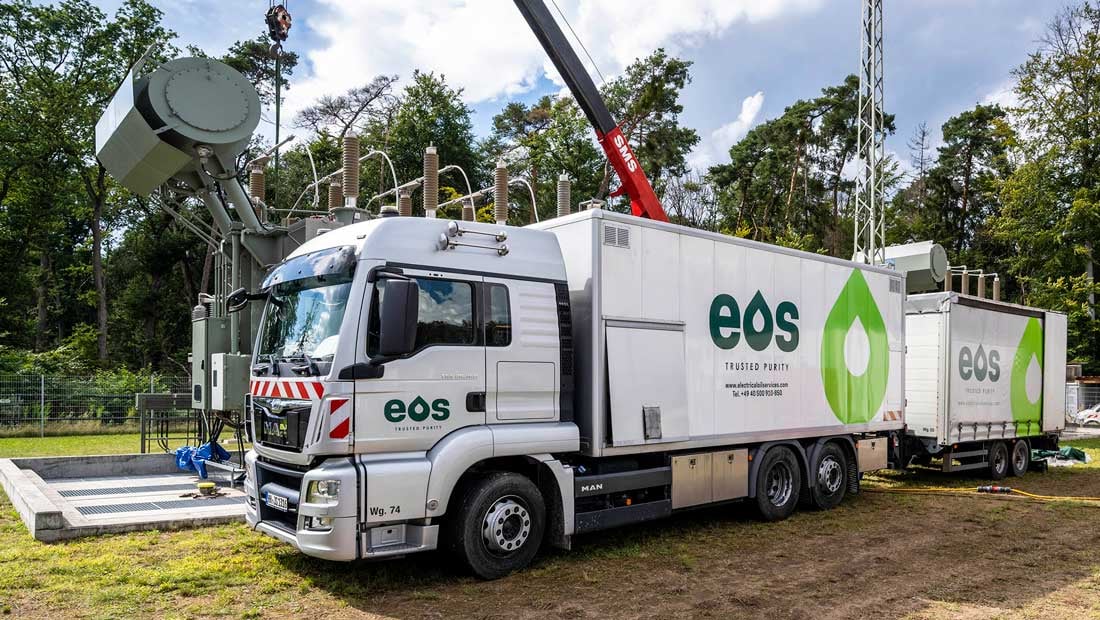 Customer-focused and reliable: The services of Electrical Oil Services
Electrical Oil Services provides comprehensive services for transformers and executes them with its own service vehicles. It is the largest fleet of mobile service units for transformer maintenance and insulating oil treatment in Europe!
The Electrical Oil Services team...
checks the condition of transformers - ideally on a regular basis - by taking a sample of insulating oil and carrying out a suite of tests.

analyses and evaluates the quality of the transformer oil in the EOS® laboratory as well as on site as part of our services.

provides expert advice to companies on cost-efficient, optimised transformer management.

recommends the ideal insulating oil as well as other products and services consistently under the aspects of sustainability and safety.

collects used insulating oil and feeds it back into the circular economy.

supplies new as well as industry compliant recycled insulating oil.

fills transformers under vacuum (new and refilling).

reprocesses insulating oil using specialist mobile equipment and minimising down-time of assets whilst providing significantly improved insulating oil quality.

regenerates the transformer oil during live operation to a new insulating oil according to IEC 60296:2020.

performs sealing measures on the line bushings of transformers.

stores insulating oil in oil-flushed rental tanks on site within the scope of repair and maintenance work.

takes care of the testing and installation of certified oil spill trays.

accompanies the maintenance of a transformer as a reliable partner from commissioning to decommissioning.
With the help of these services, you will noticeably save
costs on your transformer maintenance
Firstly, with Electrical Oil Services downtimes are significantly reduced because replacing or processing and regenerating the insulating oil is optimised in terms of time. Secondly, you can achieve a significant extension of the service life of loaded transformers through a constant insulating oil check.
Because even if you have already ordered a new and perhaps larger transformer, you can currently expect longer lead-times due to supply chain bottlenecks.
Furthermore, with the EOS® Closed Loop Model, Electrical Oil Services is making an important contribution to the circular economy:
Industrial companies as well as power supply companies use recycled insulating oil to reduce their carbon footprint. This sustainable reuse is subject to the rules and laws of waste management and enables the reprocessing of transformer oils to as-new quality according to IEC standard 60296:2020 Type B.
Download our brochure for a detailed overview of our services:
Or learn more on the following page:
We also recommend the FAQ section on our website:
EOS Trusted Purity Blog -
New or recycled? Both!
Insulating oils and base oils from Electrical Oil Services
Whether completely new or fully recycled - the insulating oils from Electrical Oil Services ensure the function, longevity and reliability of transformers.
We use insulating fluids (inhibited and non-inhibited transformer oil) in accordance with the international standard IEC 60296:2020, Type A or Type B:
Recycled insulating oil EOS® Premium:
Our insulating oils EOS® Premium and EOS® Premium X are processed to meet the specific requirements of the international standard IEC 60296:2020 Type B. They are mainly used for oil changes, maintenance work and as a top-up oil after regeneration processes.

New insulating oil EOS® NTO:
This pure mineral oil is based on selected crude oils and complies with the international standard IEC 60296:2020 (Type B or Type A respectively). The new insulating oil is preferably used when installing transformers as an initial filling.
In addition, Electrical Oil Services also processes used insulating oils into base oils at its own production facility in Duisburg as a certified disposal operator. These base oils are used in a wide variety of sectors, such as the printing ink industry, in civil engineering and construction, and in the production of industrial explosives:
EOS® Trafol® Base Oil:
The naphthenic base oils ensure very good solubility and are classified in category WGK 1 according to WHG.
In addition to our oils, we offer insulating oil inhibitor concentrates, silicone fluids, synthetic esters and other products related to transformers. Would you like to get to know our entire product portfolio?
Read more about our portfolio here:
You can find more brochures, flyers and certificates here:
Electrical Oil Services: Brochures and certificates
Do you have specific questions for us? We will be happy to answer them:
Simply arrange a free-of-charge telephone consultation appointment!
Conclusion
Are you looking for a reliable partner for the regular condition assessment of your transformers? A partner who will analyse the quality of your transformer oils and refurbish or replace them at the right time, saving you time and money? Electrical Oil Services distributes new as well as recycled insulating oils throughout Europe and offers its customers diagnosis, prognosis and comprehensive services in the field of insulating oils and transformer maintenance.
Trust our technical expertise, which we have proven in the market for over 60 years! The Electrical Oil Services experts work in compliance with legal and regulatory requirements at all times, and are committed to long-term partnerships with high-quality products and professional services.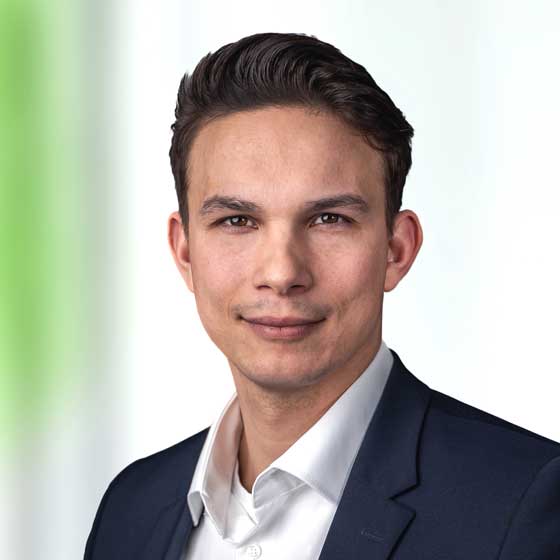 Kilian Gerbl
Kilian Gerbl is Head of Sales for Electrical Oil Services GmbH. He is responsible for all commercial-related topics in Europe – this includes customer relationship management as well as new project and business development. His key focus is to expand the EOS activities across Europe and further implement the sustainable EOS Closed-Loop model.
Tel: +49 151 5351 5373